At the start of the new year, you may find yourself wanting to make new goals or have new changes to your daily routine. However, finding new ways to be involved in the community as a stroke survivor can present different challenges in the new year.
As a stroke survivor or caregiver, navigating "the system" can be one of the most frustrating- and confusing- aspects of recovery. Many things are "lost in the shuffle," especially upon transition from the initial hospitalization, to inpatient rehabilitation, to outpatient rehabilitation, and then finally home. Aspects of care are ever-changing with each step. As a caregiver and a clinician, I personally understand the massive undertaking it is to not only line up services but also to find the correct services or community activities at the right time.
How to Find Stroke Resources Near Me
There are many resources available for people who have had a stroke or are caring for someone who has had a stroke. Here are some steps you can take to find stroke resources near you.
Ask Around
One of the best ways to find resources near you is to ask. Therapists and case managers are wonderful local resources. If sent home directly from the hospital due to physical status following a stroke, resources may not have been offered. Deficits such as cognitive or visual impairments may become more apparent upon returning to daily function.
Speaking to your local Council on Aging could also be helpful. The Council on Aging is a government agency, typically local to your town, that provides resources and support for older adults. They may be able to connect you to stroke resources in your area.
Connect with your Insurance Company
If not provided with resources following your stroke, one of the most common ways to advocate for yourself or your loved ones is by calling the insurance company. Some provide case management services. Working with a case manager from your insurance company may help save them money by helping you to take care of yourself. Find this information on the back of your insurance card to inquire about services or access your membership benefits online. Many insurances, including Medicare and Medicare supplemental programs, provide things such as gym memberships and adult day services at little or no charge.
Search the Internet
If not from a case manager or medical professional, the internet is a great place to start. Honestly, sometimes searching the internet is the best way to find local and national resources.
Some trusted internet resources are:
Within the National Stroke Association, search for your local community by inputting the zip code or state.
One of the positives that came out of the post-COVID pandemic is the online presence of support groups.
If the stroke survivor is a veteran, finding services within the VA system can be robust. Begin your search here if you are not familiar with your local VA services.
Community Resources for Stroke Survivors
Many communities, rural or urban, have local support groups or services. Most states provide information for post-stroke services related to deficits such as vocational rehabilitation, return-to-driving services, low vision services, or adult day programs. Many areas also have organizations such as swaps for durable medical equipment (DME). Examples of DME include bedside commodes, lifts, and shower chairs. Not all insurances cover all DME.
Begin searching at your state website.
For example, if you live in Missouri, begin here at: mo.gov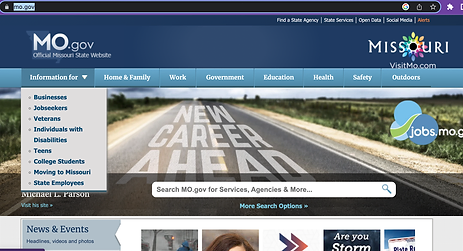 Once on your state website, search for the information in the search bar such as vocational rehabilitation or adult day care centers. Most state websites provide regional information as well as phone numbers and mailing addresses.
Many local community centers which provide a pool and exercise gym, also provide many services for individuals which require adaptations following a disability. Many of the local gyms at community centers also work in conjunction with Silver Sneakers, a Medicare-supported program for exercise for seniors and individuals with disabilities. Please see this link for further support of this topic.
Top Stroke Education Resources
While looking into further community resources, it may be helpful to brush up on your knowledge about stroke and recovery which can help guide your choices and needs.
Please see below for a list of resources for reading:
Stroke Impairment Resources
Stroke Support Groups
When being more involved in the community and returning to daily life following a stroke, support groups can be very helpful for some, while others do not respond so well to this type of environment. It never hurts to try out many to see if there are any that fit your needs. There are support groups for both survivors and caregivers alike, often run separately as well as together.
There are also support groups that address specific deficits following a stroke such as young adults with a stroke and aphasia. Support groups can range from sitting down and talking to community outings and choirs for stroke survivors to practice language skills. Speak to your doctor, PT/OT, or case manager about local support groups.
Below are links to help you find resources as well.
Within the American Stroke Association, search for your local community by inputting the zip code or state
Please also refer to the Neurolutions resources on the use of stroke support groups.
A new year does not have to mean a new you. However, it is a good opportunity to look at things with a fresh perspective and look for new activities or support that may not have been there in 2022.
Hopefully, you find helpful suggestions in this article to look for resources.
Best wishes for the new year.